Honda's upcoming All New SUV – The Honda Elevate – is set to redefine the driving experience.
May 5, 2023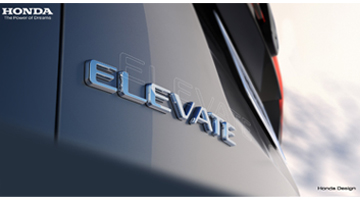 Honda Cars India Ltd. (HCIL), a well-established and leading manufacturer of premium cars in India, has made an exciting announcement regarding its upcoming mid-size SUV. The much-awaited SUV will be known as the Honda Elevate, as revealed by HCIL. The all-new Honda Elevate has been designed as a global model, catering to the growing demand for SUVs worldwide. It is a brand new addition to Honda's line-up and has been developed with a keen focus on meeting people's lifestyle requirements and expectations for a new SUV from Honda.
The Honda Elevate is set to make its highly anticipated world premiere in India next month, and it will be the first market to launch the SUV. Honda has always been known for its high-quality and innovative vehicles, and the Honda Elevate is no exception. The new SUV promises to deliver an exceptional driving experience, combining style, performance, and comfort. It has been crafted to meet the evolving needs of modern-day drivers, providing them with a powerful and reliable mid-size SUV that caters to their unique requirements.
Overall, the Honda Elevate is an exciting new addition to Honda's line-up, and the eagerly awaited world premiere in India is expected to create a buzz among SUV enthusiasts and car aficionados alike. Honda's commitment to excellence is evident in the development of this new SUV, and the company's reputation for quality and reliability is sure to be upheld with the launch of the Honda Elevate.The wait is almost over..Honda Elevate will soon be available at Signature Honda showrooms Kannur and Kasargod.