Best Value- Buying and Selling Suzuki Pre-Owned Two-Wheelers
August 10, 2023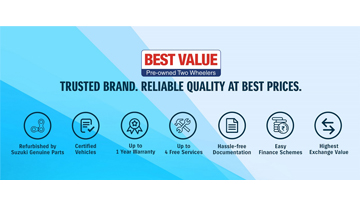 Suzuki launched "Best Value" which guarantees a well-organized, secure, and smooth process for purchasing and selling pre-owned two-wheelers.The SUZUKI BEST VALUE Dealership Model like in Kannur is ingeniously designed to expand Suzuki's involvement in the entire life cycle of its Two-Wheeler Products, extending far beyond the initial ownership phase. This approach aims to deliver unparalleled benefits to both purchasers and vendors of Pre-Owned Suzuki Two-Wheelers.
The primary objective encompasses enhancing the experience of buying and selling pre-owned two-wheelers, transforming it into a structured, guaranteed, and hassle-free process. We achieve this by offering an array of services, including Retail Finance Options, Warranty coverage, and Free Services for meticulously Refurbished Certified Vehicles.
For Sellers:Unlock the optimal value* for your pre-owned Suzuki vehicle. Explore enticing trade-in opportunities for your previous Suzuki model, facilitating a seamless upgrade to the latest generation Suzuki vehicles. Experience a comprehensive and transparent 54-point evaluation procedure for your vehicle, ensuring complete clarity. Effortlessly transfer ownership documents, providing the seller with absolute peace of mind. Receive instant on-the-spot payment for your vehicle.
For Buyers: Browse through certified pre-owned vehicles meticulously inspected by authorized Suzuki engineers. Access a verified record of the vehicle's past ownership history. Benefit from a thorough 72-point certification process for pre-owned vehicles, including restoration using genuine Suzuki components. Discover customer-centric pricing for exceptional value pre-owned vehicles. Take advantage of attractive financing choices tailored to your preferences. Rest assured with warranty-backed assurance of product quality for all certified vehicles. Enjoy complimentary labor-free servicing. Experience a hassle-free documentation process.
To know more you could visit Kannur Best Value Outlet at Melechovva or call us on 09539117755 or drop us an us enquiry