Why Bought Suzuki Access 125 – Know Its Ex Showroom Price
October 13, 2017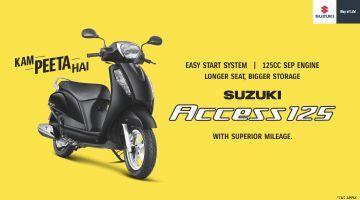 Are you planning to buy a moto-scooter? If yes, it is time to stop and reconsider your choices. With the all-new Suzuki Access 125 landing on the streets to stop the show, it is a sin to not look at this beauty. The perfect ride for those who love cuteness and reliability, the Access 125 is the scooter to book. Here are a few reasons why you should buy Suzuki Access 125.
Reason #1: It is beautiful
As sleek and pretty as they come, moto-scooters somehow always have the quirk of too many harsh or jutting lines and shapes. Aesthetics that exuberate balance are hard to come by – which is the Access 125 should be your choice. Made curvy with fluid lines, with the body still maintaining its balance, the Access 125 is made for the ramp.
Reason #2: It's got jazz
A beautiful body is not all that you'll be getting home with an Access 125. There are a hoard of sexy features that make all other scooters look…old. The riders get fancy retro headlights with a bold chrome strip running around them, and an equally attractive chrome exhaust muffler. They also get storage up front – a big pocket and a nifty hook.
Reason #3: The engine
Loaded with Suzuki's newest SEP (Suzuki Eco Performance) engine, the Access 125 offers better engine performance at an increased torque. The ignition feel buttery-smooth and the hum sounds melodic.
With that much raw power packaged with elegant beauty, handy features and so much panache, there is no reason to purchase any other moto-scooter. With price as minimal as ₹55,000 for the features and convenience this scooter has to offer, the deal is unbeatable.