Bring New Suzuki Gixxer SF Home – Know Its Ex-Showroom Price
October 13, 2017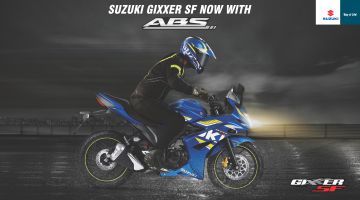 Get ready for the all-new Suzuki Gixxer SF – the sportier, niftier, sexier and more muscular big brother of the reliable and loved, Suzuki Gixxer. What is new in this bike that deserves an entire blog? Quite a lot, actually. The Suzuki Gixxer SF – where SF stands for Sports Fairing – has arrangement on the body to add fairing to it. So while becoming sportier, the Gixxer gives its lovers of old a tribute of loyalty. Let's explore more about this bike. It is certain that after reading this blog, you would want to bring the new Suzuki Gixxer SF home.
First off, the Gixxer SF has retained its riding posture, which is back-straight. This allows for extreme versatility with respect to riding choices. The bike can be driven comfortably at speeds as high as 130kmph, where the back-straight posture allows you to bend down in streamline with the bike. The added fairing contributes to improving the aerodynamics of the bike. Both of these facilitations feed the fetish of the adrenaline lovers. On the other hand, the back-straight posture treats its easy-going drivers with a posture that spares them hurting wrists.
Second, the Gixxer SF gives super performance when it comes to weather challenges – wet or slippery roads, handling, balance, etc. Strong gusts of wind could be anybody's problem, but in Gixxer SF one would notice much less of a sway upon being hit by random gusts of wind.