The Insider's Guide To Getting The Perfect Deal On A Suzuki Two Wheeler
June 5, 2017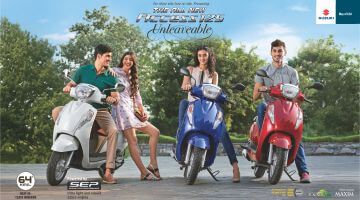 Suzuki two wheelers have proved to be an individual's best mate when it comes to driving on traffic-jammed roads and driving through small, congested streets. However, getting a good deal on the vehicle in a Suzuki Two-Wheeler Showroom requires some basic knowledge about the various factors related to the vehicle. The main factor which plays a great role is the price of the vehicle along with mileage, among others.
When purchasing any two-wheeler from a Suzuki Two-Wheeler showroom, one needs to know about the fuel efficiency, the rate, the models available, the broken system, the pollution meter, weight, height, color, durability, financing options available and much more.
The after-sale services provided by Suzuki two-wheeler showrooms should also be considered. Some (all our showrooms/service centres provide genuine Suzuki spare parts) showrooms also provide genuine Suzuki spare parts for the two-wheelers, which prove to be quite helpful for the customers.
The Suzuki two-wheeler showrooms also aim at helping the customers in finding suitable resell price for the two wheelers. Many schemes are introduced regarding the reselling of the old two-wheelers.
These were some of the points that can act as a the insider's guide to getting the perfect deal on a Suzuki two-wheeler.