New Suzuki Access 125 Special Edition – A Style Icon
August 22, 2017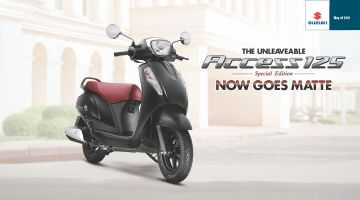 Suzuki, the name trusted globally for superior performance and reliability, launched the new Suzuki Access 125 which combines the best of both worlds – power & mileage – with revolutionary SEP technology. Completely redesigned, both in aesthetics and technical specifications, the new Suzuki Access 125 boasts of many interesting changes. A state of the art SEP engine, new frame, optional disc brake and various updates to wheels, suspension, transmission and body panel.
Design wise, the new Access is designed in a way which gives it a royal and sophisticated look with features like chrome finish, 3D emblem logo and rich bodywork with stylish edgy contours. These looks make it look astonishing and a lot better than other boring scooters. These features have been incorporated with practical usage in real road conditions and the comfort of Indian riders.
The New Access 125 is available in 6 sophisticated colours – Pearl Suzuki Deep Blue No.2, Candy Sonoma Red, Pearl Mirage White, Metallic Matt Fibroin Gray, Metallic Sonic Silver (YD8) and Glass Sparkle Black. The Access 125 showroom price is priced reasonably making it a good choice.
Striking features
Who would say no to a fabulous stylish scooter with great features. Every single detail of the design aspect is different from the run of the mill designs in scooters. The list of enhanced design features and performance oriented feature are endless and these attributes give improved fuel efficiency, performance, cornering stability, smoother ride and added protection.
With these features, the new access 125 finds greater traction in the markets with a super performer in the Access 125 Special Edition. The scooter that has redefined markets and standards, is available at a price that will floor the competition, priced at of Rs.62,426.
Specification of the special edition
The Unique tyre size combination for better handling welcomes any roads. The Suzuki Access 125 SE comes with front tyres are larger in diameter than the rear tyres. This gives safety while travelling across all kinds of traffic, city, semi urban and rural. With greater comfort and handling, you can be sure of enjoying your ride, over long distances. The Suzuki access 125 special edition price starts from Rs.62,426/-