Special Features And Variants Available In Newly Launched Suzuki Gixxer 2017 In India
November 21, 2017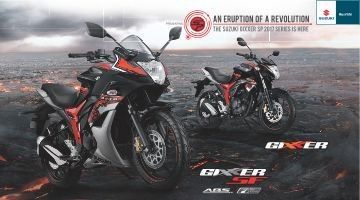 The 2017 Suzuki Gixxer series was recently launched in India, and the reception has been very positive. This beast has some exciting special features that create a unique riding experience. Are you in the market for one? Here are some of the things you need to know about this new racer in town:
Variants and price
The 2017 series comes in two variants available in India—the Gixxer SP and Gixxer SF SP. The price for the Gixxer SP begins at Rs 85,714, while the Gixxer SF SP starts at Rs 93,115.
Look
Both the Gixxer SP and the Gixxer SF SP turn heads for their edgy silhouettes. To enhance the sporty feel of these rides, Suzuki gives them tri-color paint combinations with futuristic lines. The Gixxer SP even has a sleek Gixxer SP 2017 emblem. This powerful bike isn't just fast—it also looks fast.
Instrumentation
The two Gixxer variants are equipped with a smart digital instrumentation, which is a very useful feature that gives riders accurate information about the status of their bike. This ultimately provides better control.
Brakes
An important feature of the Gixxer series is the front and rear disc brake system, which is known for better performance and ease of maintenance. The Gixxer SF SP, however, gets an extra anti-lock brake system or ABS for a safer ride, with additional costs on top of price.
Lights
Aside from its polished look, the Gixxer also sports clear LED tail lamps for an even fiercer look. More than the aesthetics, the Gixxer light promises a longer usable lifespan associated with high-quality of the LED light used.
Wheels
The Gixxer SF SP has a rear radial tubeless tire. This type of tire is relatively more durable compared to other variants.