Suzuki Access 125- Frontrunner In Bike Market
July 24, 2017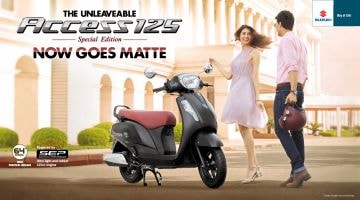 For long, the world of two wheeler racing has been dominated by a few players. This is testimony of the automotive engineering excellence of the giants. Suzuki, the name trusted globally for unrivalled performance and reliability finds greater traction in the markets with a super performer in the Access 125 Special Edition.  The scooter that has redefined markets and standards, is now available at a price that will floor the competition. Before you look at the suzuki access 125 special edition price read more about the stunning features that have made it a winner.
Unique tyre size combination for better handling
The Suzuki Access 125 SE comes with an unique tyre size combination designed to offer better handling. The front tyres are larger in diameter than the rear tyres. This gives it a cruiser kind of handling which makes it safer while maneuvering across all kinds of traffic, city, semi urban and rural. With greater comfort and handling, you can be sure of enjoying your ride, over long distances. Unlike most other models of scooters, where longer rides may tend to be tiring and demanding on the lower back, you will find greater riding pleasure with the Suzuki Access 125 SE.
Better torque to vroom away
Need to move in a hurry? The higher torque of the Access 125 SE lends you the confidence of zipping in and out of traffic with greater ease. The peppy power will take you places faster and safer without having to contend with slow pick ups. With the right combination of engine performance and optimum displacement, you can outpace other scooters, should the need arise.  This also gives you the advantage of carrying a pillion rider without worrying about reduction in speed or power.
Appreciative looks that will never stop coming your way
The fabulous styling of the scooter will bring appreciative looks that will never stop coming your way. The exquisite detailing and colour combination are a class apart. Every single detail of the design aspect is different from the run of the mill designs in scooters. The size and shape of the front indicator lights, the cute little rear view mirrors, the soft plush seats, the list of enhanced design features are endless.