Suzuki V-Strom SX-All New 250cc Sports Adventure Tourer
April 30, 2022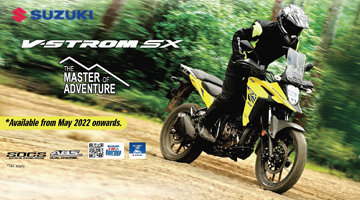 The Master of Adeventures- V-strom SX has been launched.Under the design concept, "Toughness in a Slender Shell", V-Strom SX gets its toughness from its rugged, adventure-inspired looks, confidence- inspiring chassis. The slender shell refers to a slim exterior shape owing to the compact engine design that appears to be wrapped in a "protector-like" shell. Its nimble handling and light weight make it simple to maneuver through the city. Its sporty performance brings excitement and thrills across twisty roads making it a lightweight versatile crossover. A well rounded chassis forms the backbone of the V-Strom SX bringing together a feature set suited for riding both on paved and unpaved roads will make it best suited for the daily commute, long highway rides, and exploring rough terrains.
What makes V-Strom SX Special?
Discover comfortable city commute,  long highway rides and adventure terrains with high – performance 250cc engine exclusively developed for India using the SOCS technology.
Explore the Adventurous – Unknown Roads with the Big and Bold turn-by-turn Navigation icons and never miss the Notifications with the Advanced Digital Cluster and Suzuki Ride Connect Application.
Capable of sporty riding in the curves on paved roads and solid handling on unpaved roads , distinct adventure – inspired looks, comfortable ergonomics and fully – realized utility that fit customer needs.
249cc, 4 stroke, 1-cylinder, oil cooler SOHC V-Strom SX engine feels strong and linear, offering excellent torque at low rpm and a smooth run up, making it easy to use for beginners as well as for veteran riders. The sports adventure tourer adopted analytic technology from MotoGP that was used to develop the valves, shim type roller rocker arms, retainers and piston to reduce the weight. V-Strom SX's piston contributes to increased output and better fuel efficiency. Inheriting this MotoGP technology, this new motorcycle can handle a wide variety of situations, from riding in town to high-speed cruising. V-Strom will be available in 3 colour variants Champion Yellow No. 2,Pearl Blaze Orange and Glass Sparkle Black at Kannur Signature and Kasargod Signature.