Honda City- 25 Glorious Years In India
October 10, 2022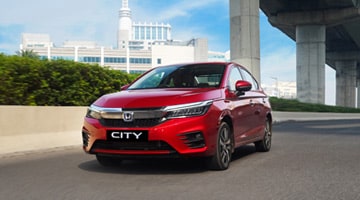 Honda City started its journey in India in 1998, and now in its fifth generation avatar, has remained the longest running mainstream model in the Indian automotive history.The Honda City is an extremely strong aspirational brand for achievers and enjoys huge brand loyalty amongst its customers. Synonymous with the brand Honda, the City has been a key pillar of business for HCIL since the inception of the company, and has cumulatively provided pride and joy of driving to more than 9 lakh customers in India and its export markets.
Each Honda is created with exacting attention to detail, innovation in design and unmatched engineering, making Honda one of the most admired, respected and cherished automobile brands world over. The Honda City bears the same pedigree and provides a fine combination of Fun to Drive, Comfort, Stability, Unparalleled performance and a host of safety technologies that are hallmark of every Honda automobile.With its five cutting-edge generations leading the way in terms of design, technology, safety & comfort, Honda City has carved a name for itself in the Indian automobile industry for 25 years. Aspirants and enthusiasts alike have praised the Honda City since its debut in 1998.Come celebrate 25 years of Honda City with Signature Honda Kannur and Kasargod.
Longest running mainstream model in the Indian automotive history
Iconic and largest selling mid-size sedan in India
Strong legacy of 5 generations since its first introduction in 1998
Cumulative sales of more than 9 lakh units in domestic and export market
Latest introduction of Honda City e:HEV sets a technology precedent in electrified era of mobility in India with
Strong Hybrid Electric Technology alongside advanced safety of Honda Sensing features.